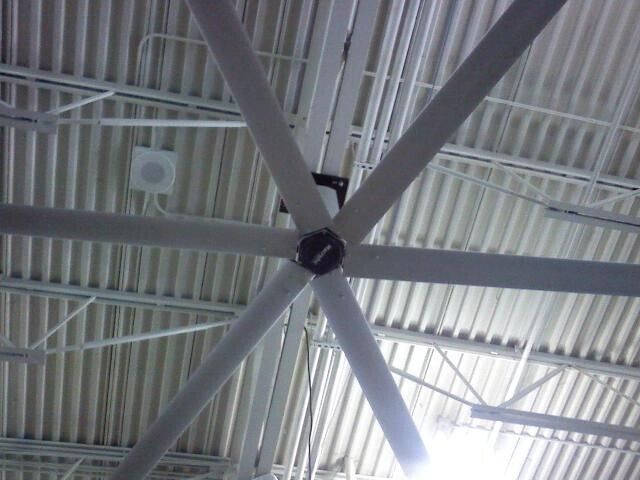 High Volume Low Speed (HVLS) Ceiling Fan in Southern Idaho 
You have likely seen large HVLS fans at work in your local warehouse/distribution store, exercise facility or sports arena. The HVLS fan technology surprisingly originated in the dairy industry when their use increased milk production! These amazing fans may also have an application for your facility, and are gaining popularity based on their ability to move significant amounts of air and maintain an even temperature from floor to ceiling during every month of the year. The professionals of Diversified Systems, Inc. are committed to helping you provide a comfortable environment for your family, employees, and customers. To learn more about our MACRO AIR HVLS fan options, contact us at
(208) 344-8607
.

HVLS Ceiling Fans
High volume, low speed fans are great for distributing large amounts of air while moving slowly enough not to disturb paperwork in the working area. They reduce air cooling and heating costs, providing a rapid ROI. They are big, measuring 7-20 ft. in diameter. Amazingly, they offer up to an apparent 10 degree cooling effect in hot summer months without A/C and circulate all the facility air, breaking down high up heat areas to greatly reduce cooling costs. Much more effective than the small fan technology seen for years, we were introduced to MACRO AIR HVLS by our used oil burner manufacturer, ENERGY LOGIC. They make a great contribution in the large spaces used by many of our customers.

Some of the benefits of HVLS fans include:
               -better air circulation
               -more comfortable environment
               -improved safety over corded, pedestal fans
               -more energy efficiency
               -pest control
               -reduced noise

Diversified Systems, Inc. can help you determine whether a high volume low velocity ceiling fan would be beneficial to your home or business, as well as provide installation and repair services. To talk about the options, call us at (208) 344-8607 or contact us online. We have customers throughout the Intermountain Area. We can also provide automotive and truck service equipment, including vehicle and storage lifts, tire and wheel service equipment, and waste oil storage and burners.